CITY OF WASHINGTON (October 6, 2021)— U.S. Senate Republican Leader Mitch McConnell (R-KY) issued the following statement today on the debt limit:
"The unified Democratic government had two and a half months to address the debt limit through reconcilliation.  Instead, they drifted to the doorstep of yet another self-created Democrat crisis.  Whether through miscalculation or a deliberate effort to bully their own members into wrecking the Senate, top Democrats have risked adding a default crisis to the inflation crisis, border crisis, and Afghanistan crisis they have already created.
Currently, the government has special authority to demand information on bank transfers in excess of $10,000. Theoretically, this allows them to sniff out things like money laundering, terrorism or tax fraud. But President Biden's new plan grants the IRS an enormous amount of power over citizens that creates a massive new jargon that would sweep up all kinds of ordinary transactions that normal, law-abiding Americans make routinely decide.
McConnell added "Republicans remain the only party with a plan to prevent default.  We have already made it clear we would assist in expediting the 304 reconcilliation process for stand-alone debt limit legislation."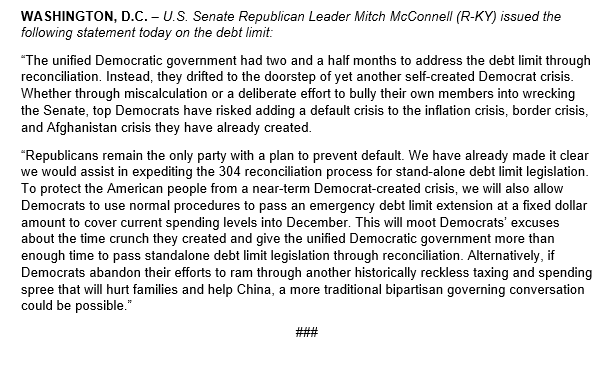 Update: 10/6/2021
UPDATE: @SenSchumer Senate Dems have accepted a short term offer from @LeaderMcConnell to suspend the debt ceiling through December 2021. Vote maybe tonight. pic.twitter.com/Us2njatBRf

— BeeNewsDaily Blog (@BeenewsdailyB) October 6, 2021
To read President Joe Biden's entire plan, read here.
Source: Senator Mitch McConnell