BUFFALO, N.Y. ( May 14, 2022) —  President Joe Biden attempted to back track on the liberal states  "stop funding" the police across the Country, Friday, but it was to late to save ten lives at a Tops Market in Buffalo, New York.  New York is a defund the police state.  Today, multiple people were struck in a mass shooting at the Tops Markets on Jefferson Avenue and the shooter is in custody, according to Buffalo Police.
At least eight people are dead, law enforcement officials told The Associated Press.
Drivers are asked to avoid the area.
Erie County Executive Mark Poloncarz first tweeted confirming the shooting: "I have been advised of an active multiple shooting event at the Tops Markets on Jefferson Street in Buffalo. Police are on scene. Please stay away from the area."
New York State Governor Kathy Hochul tweeted saying she's monitoring the situation and has offered assistance to local law enforcement.
"I am closely monitoring the shooting at a grocery store in Buffalo," Governor Hochul said. "We have offered assistance to local officials. If you are in Buffalo, please avoid the area and follow guidance from law enforcement and local officials."
Tops Markets spokesperson Kathy Sautter released this statement:
"We are shocked and deeply saddened by this senseless act of violence and our thoughts and prayers are with the victims and their families," Sautter said. Our top priority remains the health and well-being of our associates and customers. We appreciate the quick response of local law enforcement and are providing all available resources to assist authorities in the ongoing investigation."
The Erie County Sheriff's office tweeted this statement:
"The Erie County Sheriff's Office wishes to pass along its condolences to the family and friends of [today's] shooting. Sheriff Garcia has ordered all available resources and personnel to assist the @BPDAlerts."
The Tops Market said in a released statement: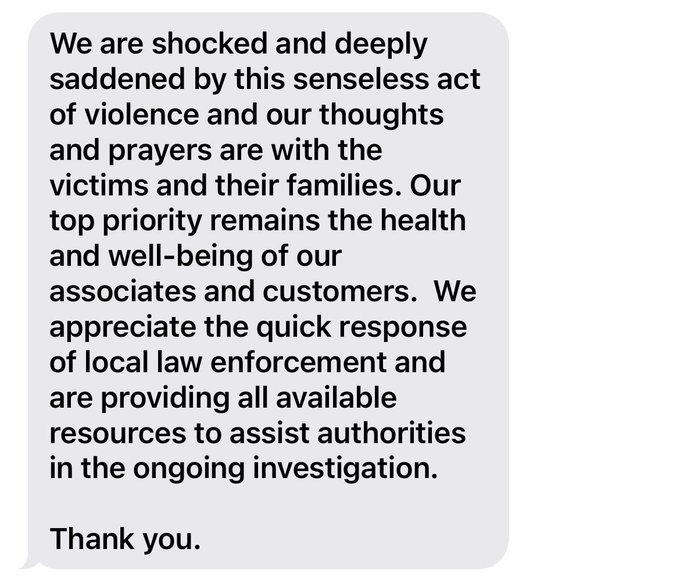 ______________________
Source: WIVB Buffalo