WASHINGTON, DC (May 19, 2022)— More than 190 Republican members of the House of Representatives vote no for additional "salaries and Expenses" for the Food and Drug Administration (FDA).  The FDA was not seeking funds to support the mother's and babies who have been scrambling for "infant formula."  
The shortage, which has left parent scrambling, was exacerbated after Abbott Nutrition, which makes Similac and is the country's largest manufacturer of baby formula, shut its Sturgis, Michigan, facility following a recall of powdered formulas.
But the agency is seeking funding to address the shortage of infant formula and certain medical foods in the United States.
According to the FDA  they have taken a number of measures, including getting "all the manufacturers to step up, getting the Sturgis plant up and going, but also importing a product that was intended for other countries. That's well underway now. And in fact, I expect by the end of the day today, we're likely to have an announcement about that path forward."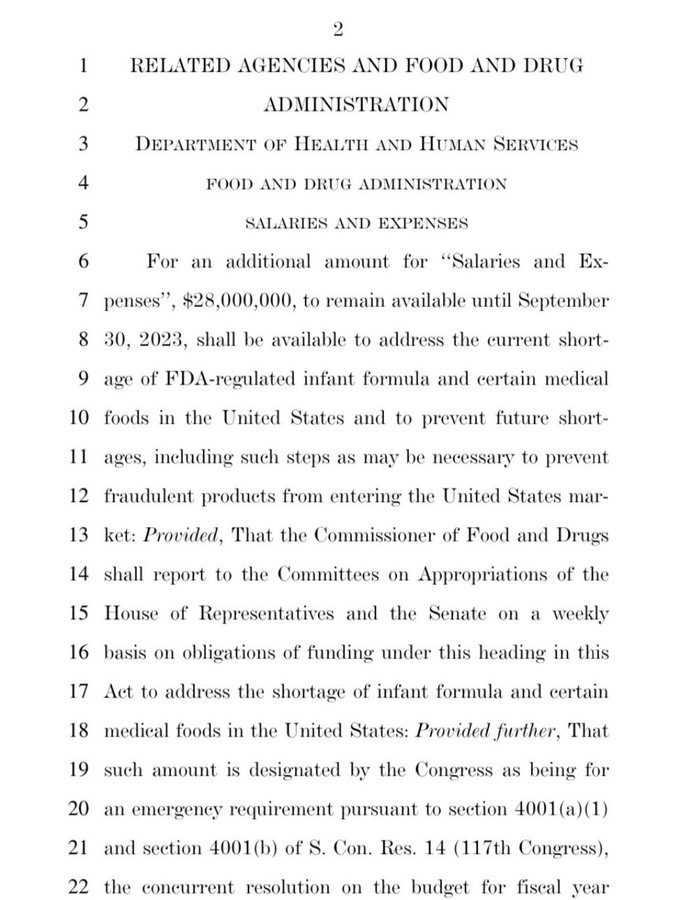 US Secretary of Transportation Blamed Abbott
U.S. Secretary of Transportation Pete Buttigieg on Sunday blamed the worsening baby formula shortage on Abbott Nutrition, one of the largest formula suppliers in the country.
Baby formula shortages due to supply chain and workforce issues were amplified by a recall of formulas made by Abbott and an ongoing shutdown of its manufacturing plant in Michigan over safety concerns.
"Fundamentally, we are here because a company was not able to guarantee that its plant was safe, and that plant has shut down," Buttigieg said on "Face the Nation."
FDA Reached Agreement With Abbott
The Food and Drug Administration on Monday reached an agreement with Abbott Laboratories on the steps needed to reopen the company's shuttered baby formula plant, which could begin to ease the shortage of infant formula that has frightened and exasperated parents nationwide," according to the Hill.
The F.D.A. said it expected Abbott to restart production in about two weeks, and was poised to review progress at the plant in Sturgis, Mich. It has been shut down since February after several babies who had consumed formula that had been produced there fell ill and two died.
The agreement stems from a U.S. Department of Justice complaint and consent decree with the company and three of its executives. Those court records say the F.D.A. found a deadly bacteria, called cronobacter, in the plant in February and the company found more tranches of the bacteria later that month.
According to the complaint, the same Sturgis factory had also produced two batches of formula in the summer of 2019 and 2020 on different production equipment that tested positive for the bacteria," according to the Hill.
Abbott staff "have been unwilling or unable to implement sustainable corrective actions to ensure the safety and quality of food manufactured for infants," leading to the need for legal action, the documents state.
In a release, Abbott said "there is no conclusive evidence to link Abbott's formulas to these infant illnesses."
The company said on Monday that production could begin within about two weeks and could translate to more formula on shelves in six to eight weeks. The company said it will continue flying formula in from a plant in Ireland.
The agreement said Abbott must hire a qualified expert to oversee a variety of improvements at the Sturgis facility.
FDA Hearings and Accountability
In addition to the F.D.A.'s actions, Representative Rosa DeLauro, a Democrat from Connecticut, said in an interview on Monday that she planned to introduce a bill that would ease the process of importing infant formula from F.D.A.-regulated foreign plants. She also said she plans to hold hearings in the House to review what went wrong in the run-up to the discovery of the bacteria and shortages.
"Both the company and the F.D.A. have got to be held accountable in order to move forward," Ms. DeLauro said. She said she had called for investigation by the Health and Human Services inspector general, and invited Abbott to testify at a hearing set for May 25.
Problems at the Abbott Sturgis plant surfaced in September during the F.D.A.'s first routine inspection there since the Covid-19 pandemic began. Inspectors discovered standing water inside the plant and personnel working directly with formula without proper hand hygiene, according to agency documents.
The following month, a whistleblower who worked at the plant filed a complaint under the Food Safety Modernization Act claiming that plant leaders celebrated concealing information from the F.D.A. and omitted key information from official documents.
The F.D.A. returned to the plant on Jan. 31 and discovered persistent problems, including the presence of cronobacter bacteria near production lines, according to agency records.
The House passed Representative Michelle Steel's  bill, the Access to Baby Formula Act. But the bill will boost the FDA's budget… $28 million without any funding going directly to working and poor mothers who had to spend additional funds to provide their babies with nutritional "infant formula."
The bill failed to "address the supply chain disruptions, get more infant formula on shelves and improve access for families." 
The House has passed legislation aimed at providing $28 million in emergency funding to the Food and Drug Administration to address the nation's baby formula shortage in a 231-192 vote.
Representative Mario Diaz-Balart tweeted "The American people will not be fooled. House Democratic Leadership's legislation DOES ABSOLUTELY NOTHING to put more baby formula on store shelves, or hold the FDA accountable. Instead, all it does is wastefully increase big government socialist bureaucracy."
The American people will not be fooled. House Democratic Leadership's legislation DOES ABSOLUTELY NOTHING to put more baby formula on store shelves, or hold the FDA accountable. Instead, all it does is wastefully increase big government socialist bureaucracy. https://t.co/nmNKs8Z44p

— Mario Diaz-Balart (@MarioDB) May 19, 2022
A second bill was passed "to expand access to formula for families who participate in WIC, another to appropriate emergency funding to produce more formula and ensure future shortages do not occur." Nine republicans voted against the bill.
_____________
Source: The Hill contributed.