UKRAINE (May 23, 2022)—Ukraine expands its international ties every week to get everything it needs to end the war as soon as possible – address by President Volodymyr Zelenskyy.
Ukraine Update:
Prime Minister Boris Johnson Writes Open Letter
Prime Minister Boris Johnson has written an open letter to the children of Ukraine, praising them as role models for children and adults everywhere and telling them "we in the UK will never forget you".
He writes that "in any other year, children like you would be spilling out of your homes and schools to play with your friends, to chase a football… to simply enjoy what is supposed to be a uniquely carefree time in your lives.
The letter references his trip to Kyiv to meet Ukrainian leader Volodymyr Zelenskyy in April, when he praised the Ukrainian president's "resolute leadership" and "invincible heroism".
"Yet, every day Ukrainian children are teaching all of us what it means to be strong and dignified, to hold your head high in even the toughest of times, I can think of no better role model for children and adults everywhere."
According to UNICEF, two million children have been forced to flee Ukraine, more than half of them arriving in Poland, with another 2.5 million children displaced internally.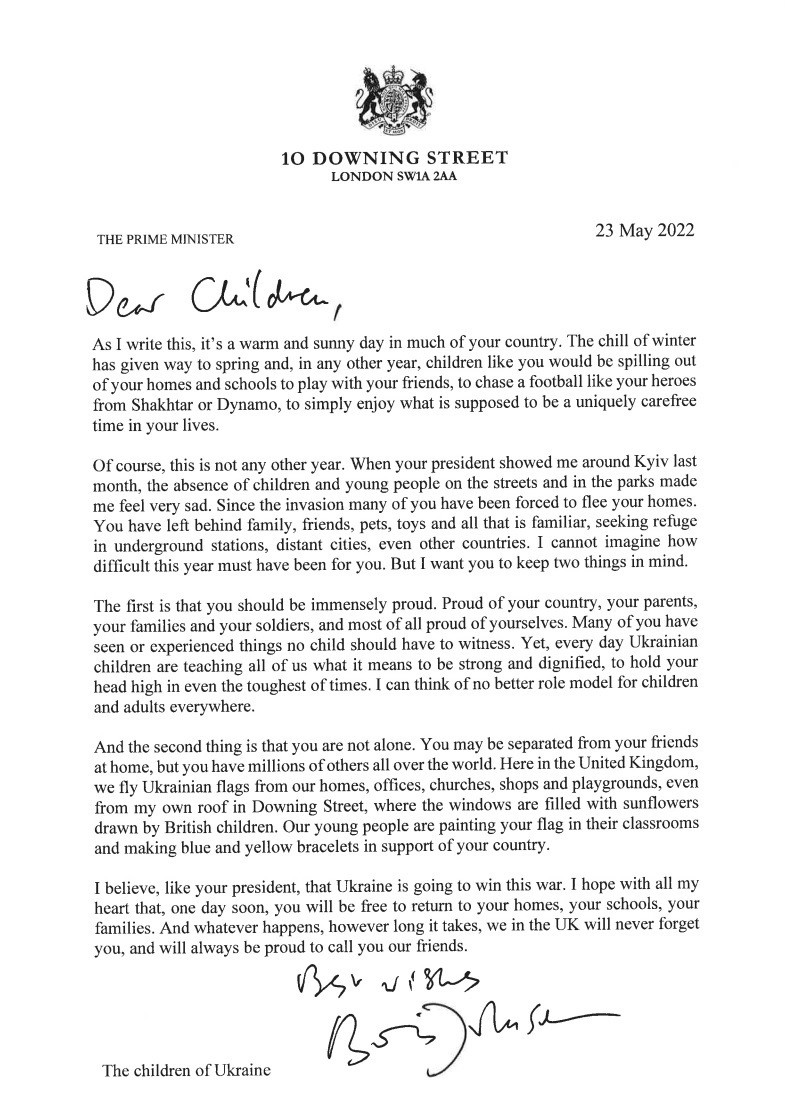 Man City's Zinchenko's tears for victory shrouded by war
Manchester City footballer Oleksandr Zinchenko may have allowed himself to celebrate raising the Premier League trophy with his side on Sunday – but he also used the moment to recognise what was happening back home.
The left-back poignantly draped a Ukrainian flag over the cup as he broke down in tears.
He told Sky Sports: "It's unforgettable emotions for me, for all Ukrainians, which at the moment are starving, they are surviving in my country because of Russian aggression.
"I am so proud to be Ukrainian I would love to one day bring this title to Ukraine because they all deserve it.
"It means everything for me. I want to die for these people for all this support. 
"What they have done for me during this toughest period of my life, I'm so appreciative and I'll never forget this in my whole life."
City won their fourth Premier League trophy in five years in dramatic fashion after coming from two goals down to beat Aston Villa 3-2, and pip Liverpool to the top of the table by a single point.
More than 8 million displaced by Ukraine war
Startling new figures from the UN show the war in Ukraine has displaced more than 8 million people.
And they reveal that more than 6 million refugee movements from Ukraine have been registered.
According to new data from UNHCR, the UN Refugee Agency, the number of people forced to flee conflict, violence, human rights violations and persecution worldwide has now crossed the milestone of 100 million for the first time on record, propelled by the conflict in Ukraine and other deadly wars.
'Buying Russian gas is funding rape and murder'
Europe's reliance on Russian oil and gas is funding the rape and murder of Ukrainian children, an MP and member of the country's delegation to the World Economic Forum in Davos has told Sky News.
Ivana Kylmpush-Tsintsadze said Western states and companies need to end "business as usual" with Moscow, and called for increased supplies of heavy weapons, as well as a total gas and oil embargo.
Ukrainian President Volodymyr Zelenskyy will address the conference by video link on Monday.
It is the first time the annual gathering of business, political and civil society leaders convenes in-person since the coronavirus pandemic in 2020.
Senegalese president to visit Moscow and Kyiv soon
Senegal's president Macky Sall will visit Moscow and Kyiv in the coming weeks in his capacity as chairman of the African Union.
Mr. Sall said the union wants to see de-escalation in the conflict, and peace through dialogue between the two sides.
Speaking at a joint news conference with the German chancellor, Mr. Sall said: "We do not want to be aligned on this conflict, very clearly, we want peace.
"Even though we condemn the invasion, we're working for a de-escalation, we're working for a ceasefire, for dialogue… that is the African position."
___________________
Source: President of Ukraine