NEW YORK — Mayor Eric Adams is getting low marks from New York City residents, according to a new poll. 
Siena College Research Institute called 1,000 New Yorkers for the study. 
Twenty-nine percent say Adams is doing an excellent or good job, but 64% rate his performance as fair or poor. 
70% of NYers Say They Feel Less Safe Than Before Pandemic; Three-Quarters Concerned They Could Be Victim of Violent Crime
76% Satisfied with Quality of Life in Their Neighborhood; At Least 60% Satisfied with Neighborhood Police, Transportation, Sanitation & Schools
Huge Support: More Subway Cops; Strong Support: Metal Detectors at Subway Entrances, Breaking Up Homeless Encampments, School COVID-19 Vaccine Mandate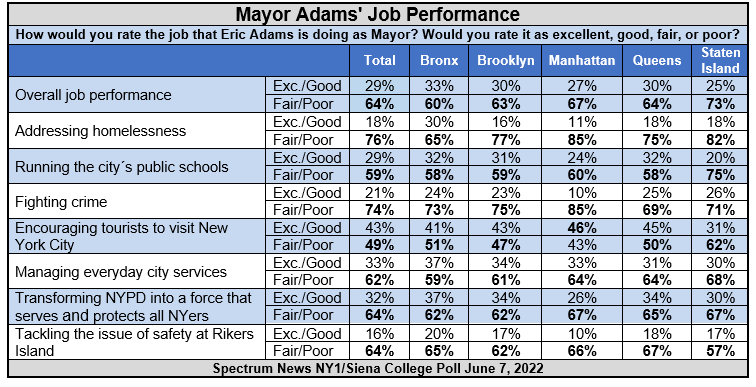 Most are also concerned they could be the victim of a crime. 
However, 76% say they are satisfied with the quality of life in their neighborhood. 
New Yorkers Comments About May Adams
Not much about this story makes a ton of sense. It's another weird Eric Adams story. And while caution is warranted, the mayor continues to stress public fear rather than successes and a year-to-year decline in shootings. pic.twitter.com/7Dj1yOIfhv

June 6, 2022
Read the entire poll here.
__________________
Source: Siena Poll