Six Dead And 31 Injured At A Fourth Of July Parade In The Chicago Suburb of Highland Park
HIGHLAND PARK (July 4, 2022)—Chicago and Highland Park, Illinois citizens woke up to fireworks of gunshots ringing out at a July 4th Parade. Six people were killed and about 31 others were seriously hurt in a mass shooting at a Fourth of July parade in the Chicago suburb of Highland Park, Illinois, on Monday, according to officials.
Highland Park police are still searching for the gunman, who they described as a man between the ages of 18 and 20. It appears he fired from a roof, police said.
Families don't matter to those who have been disrupting community life across the State… murdering innocent citizens daily. A rifle has been recovered, police said, adding that the suspect should still be considered armed and dangerous.
Police called it a "random act of violence."  The gunman, who has not yet been identified and whose location is currently unknown, was described by Highland Park police as a white man between 18 and 20 years old with a small build and longer black hair. He is wearing a white or blue T-shirt, according to Highland Park Police Cmdr. Chris O'Neill.
The North Shore University Health System said it has a total of 31 patients; most suffered gunshot wounds and a few were hurt in the chaos.
"I thought that it was the Navy that was saluting the flag with the rifles. But then when I saw people running, I picked up my son and started running," one witness told The Associated Press.
"We ran behind the building and I put my son in a dumpster … and I went back to look for the rest of my family," he said. "It was just horrible."
A Democrat Member of Congress was at the beginning of the parade.  Rep. Brad Schneider, D-Ill., said he was at the start of the parade when the gunfire rang out. He was not injured.
"My team and I are safe and secure," he tweeted.
He added that he's committed "to do everything I can to make our children, our towns, our nation safer. Enough is enough!"
The neighboring suburb of Evanston has canceled its own Fourth of July parade in the wake of the shooting, Evanston police said.
In a passionate statement Gov. JB Pritzker said, "There are no words for the kind of monster who lives in wait and fires into a crowd of families with children celebrating a holiday with their community. There are no words for the kind of evil that robs our neighbors of their hopes, their dreams, their futures."
"Prayers alone will not put a stop to the terror of rampant gun violence in our country," the governor wrote. "We must — and we will — end this plague of gun violence."
Governor JP Pritzker, said in a released statement "today, I ask all Illinoisans to pray for the families who have been devasted by the evil unleashed this morning in Highland Park, for those who have loved ones and for those who have been injured."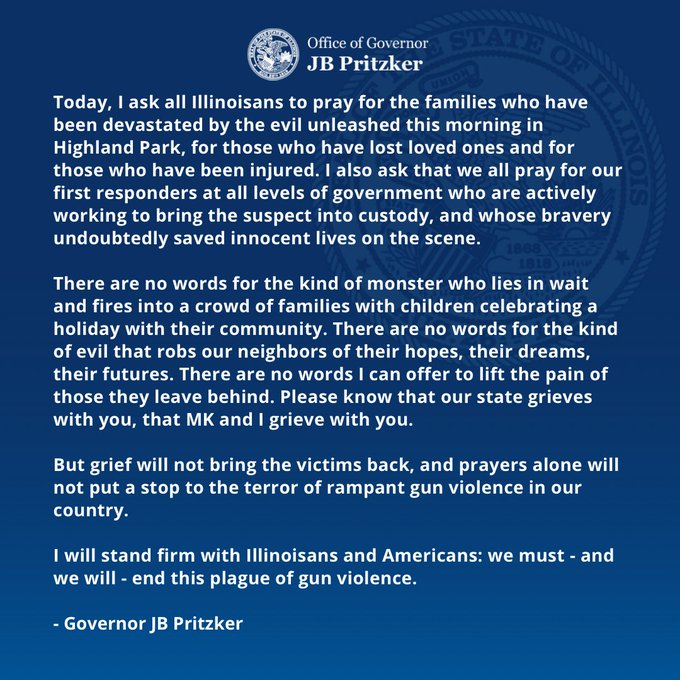 The State and the Biden's Administration don't have answers in how stop the violence in Chicago or crime across America. Attorney General Merrick Garland has been briefed on the shooting. The FBI said it's sent resources to the scene.
The Bureau of Alcohol, Tobacco, Firearms and Explosives also has agents on scene and is conducting an urgent trace on the recovered gun, according to a law enforcement source.
Law enforcement has long been concerned about gunmen firing from elevated positions, which police say could give them a strategic advantage.
The deadliest example of that is the 2017 Las Vegas massacre, during which the shooter took up a window position in the Mandalay Bay hotel. Fifty-nine people were killed in what became the deadliest mass shooting in modern U.S. history.
In the wake of the Vegas massacre, law enforcement around the country placed a greater emphasis on securing elevated locations surrounding public events, but police have acknowledged how daunting a task it is to secure all such positions.
Chicago Police Needs Your Help
"We're asking anybody with any video surveillance that they may have, please review your cell phones," Covelli said. "If you were snapping pictures in the area of Second and Central today, that could help investigators. They may see something in there that may be useful and allow them to proceed further with the investigation. Any business owners in that area we're asking, please, review your video surveillance. If you have any video surveillance of that area at that time, even if you don't see anything in there, we would love to be able to take a look at that so we can further our investigation."
The FBI Chicago tweeted "FBI Chicago is aware of the situation in Highland Park, IL and has deployed resources to the scene. We encourage the public to report tips to 1-800-CALL-FBI."
FBI Chicago is aware of the situation in Highland Park, IL and has deployed resources to the scene. We encourage the public to report tips to 1-800-CALL-FBI.

— FBI Chicago (@FBIChicago) July 4, 2022
_________________
Source: ABC News Chicago reported the shooting.