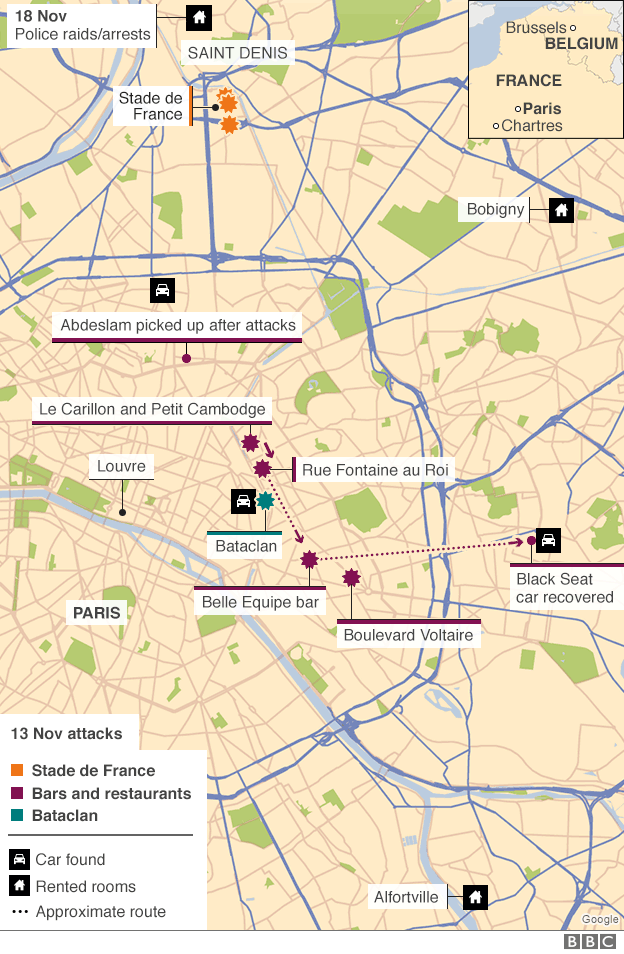 The rampage then continued in the streets of central Paris.
A second group of three jihadists drove through the 10th and 11th districts in a black Seat car, opening fire at people having drinks and dinner outside bars and restaurants. The first shooting happened at 21:25.
Half an hour of assault rifle bursts resulted in 39 deaths.
One of the gunmen later blew himself up at the Comptoir Voltaire cafe.
The third jihadist group – again three gunmen – stormed the Bataclan theatre. The shooting began at 21:40 and the carnage did not stop until elite anti-terror police managed to corner two of the three in an assault at 00:18.
Just before 22:00 a policeman shot and killed one gunman downstairs whose suicide belt exploded. The other two took hostages upstairs, while some of those attending the rock concert managed to find hiding places. The gunmen died in a shoot-out with police.
The Bataclan was the scene of a massacre in which 90 people died.
On 18 November police assaulted a flat in the Saint-Denis district of Paris, killing the alleged ringleader of the jihadists, Belgian Abdelhamid Abaaoud. Two accomplices died with him.
The sole surviving suspect from the attacks, Salah Abdeslam, is due to go on trial in Paris with 19 other alleged jihadists early next year.
Source: BBC News