WASHINGTON, D.C. (January 21, 2021)—today Representative Marjorie Green (R-Ga) introduced "Articles of Impeachment against PResident Joe Biden on his second day in office. Representative Green said in a press release that she introduced "the articles of impeachment against Biden for his corrupt actions involving his quid pro quo in Ukraine and his abuse of power by allowing his son, Hunter Biden, to siphon off cash from America's greatest enemies Russia and China."
House Speaker Nancy Pelosi on Thursday rejected GOP Leader Mitch McConnell's (R-KY) demands to back away from an impeachment trial of former President Donald Trump, even as she would not say when she would send the impeachment article to the Senate to begin the process. At the moment, Senator Chuck Schumer does not have the votes to convict President Donald J. Trump in the U.S. Senate.
When the impeachment hearing is scheduled–the trial will halt the U.S.  Senate's confirmation and other hearings.  The U.S. Senators are struggling over hashing out the procedures in who is to control the hearing. The senate is 49 Democrats, 1 Independent and 50 Republicans, but 60 votes are needed to convict President Trump.  Senate Majority Leader Chuck Schumer and Senate Minority Leader Mitch McConnell are expected to discuss trial logistics Thursday according to multiple reports.
Read the Entire Articles of Impeachment: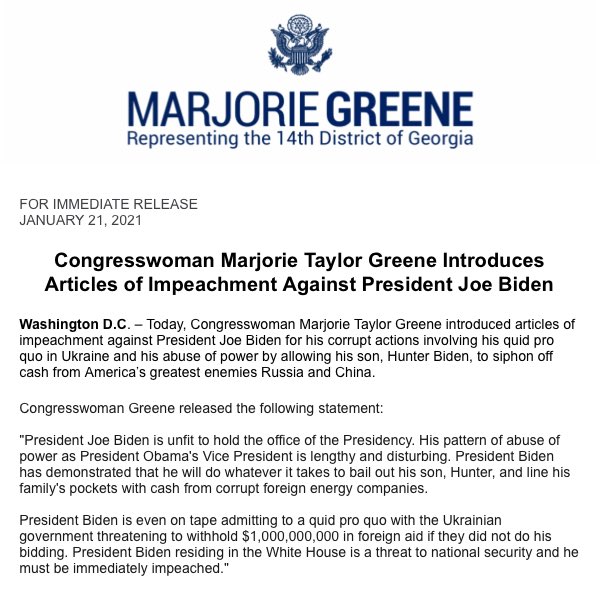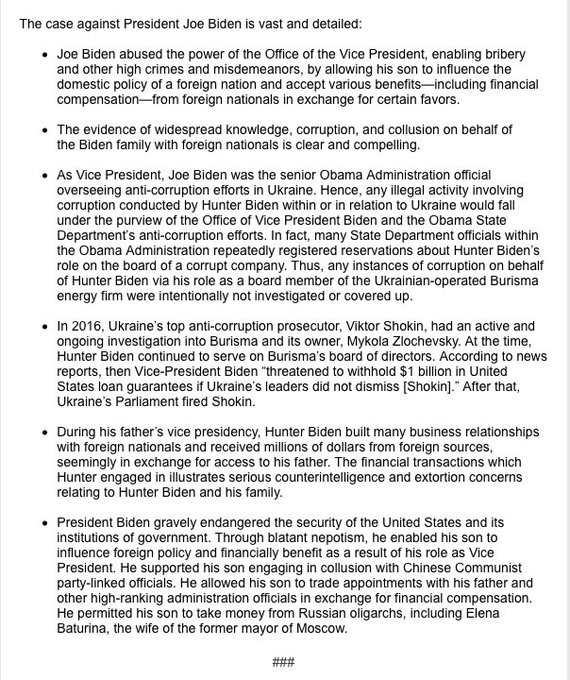 Source: Representative Marjorie Green