CHESTERTOWN, MD (January 28, 2021)—-Black Lives Matter supporter and Former Maryland State elected official Heather Mizeur has thrown her hat into the 2022 House of Representative race 
"As you know, the events of January 6th made me consider a challenge to Congressman Andy Harris for his role in the treasonous insurrection against our government. His actions today pushed me to think even harder about a run. I posted about it on my other political page. Follow me there, as I'll have more to say in the coming days," said Mizeur.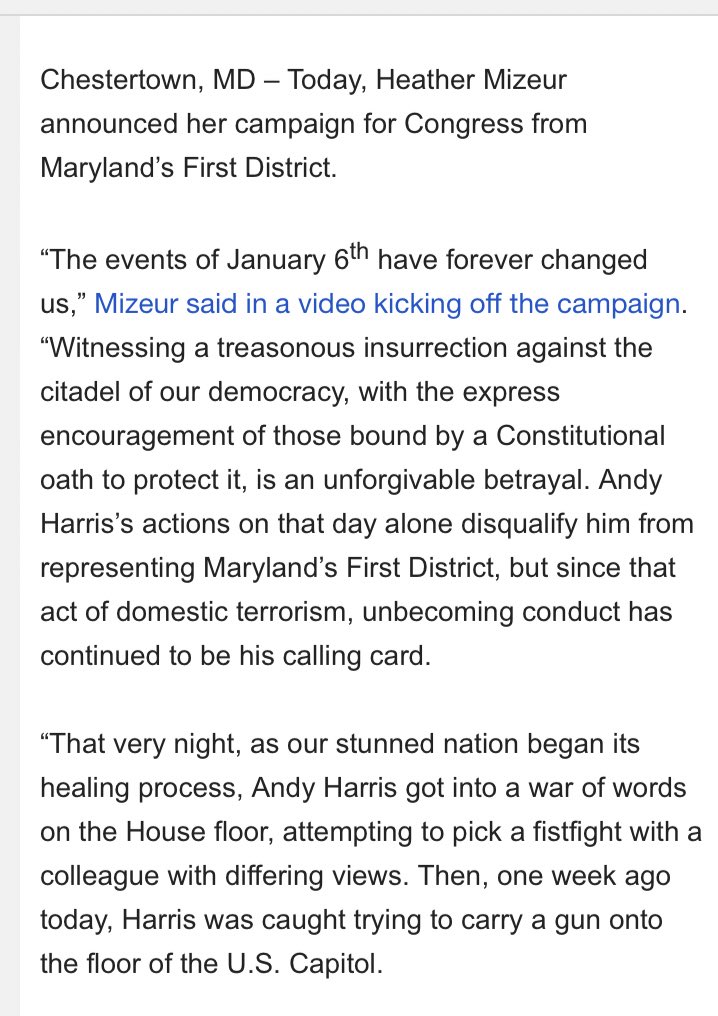 Mizeur's campaign will not be a cat walk.  Citizens have already started to weigh in "Really, we want the same mess that Democratic leaders from Balt, PG, AA, Montgomery , Howard counties , here on the Eastern Shore?? Look what they've already done and wrecked the nice quaint town of Cambridge," posted Mike Roenigk who lives in Stevensville, Maryland. Roenigk is referring to the major increase in crime this year in Cambridge. "Compared to last year the city has already seen an almost 38 percent increase in aggravated assaults, a 55 percent increase in robberies and a 79 percent increase in vehicle thefts."
Mizeur posted on twitter about her opponent:
Mizeur is also one of the founder's of Soul Force Politics.  According to Mizeur –"Soul Force Politics  has curated for you a library of the best writings and analysis this week that have appeared on National Public Radio, The Atlantic, The Washington Post, The New York Times, Rolling Stone, and more — pointing out the long history we have as a nation that has not reconciled its racist history."
"Are you feeling called to help the healing and reconciliation we need to move forward?"
Mizeur will be serving in dual duties.  Her organization Soul Force Politics to offer a course on understanding how she defines racism "Consider enrolling in our 8-week course on Understanding Whiteness and Unlearning Racism. I am honored to facilitate this work again over the months of February and March."
 Former Representative Gilchrest 
Mizeur wrote "most afternoons you can find me and my dog hiking the Sassafras for both exercise and spiritual renewal.
"Today, we were joined by former Congressman Wayne Gilchrest. We share a deep love of the land and the wisdom that can come from right relationship to Earth. We had a great talk about many topics and I am grateful for his friendship and insights. I'll have more to say about politics soon, but know that I have taken your encouragement to heart and am giving this a serious look,"added Mizeur.
Gilchrest a seven term Republican,  had this to say about President Donald J. Trump's first impeachment. 
"I knew some of those senators when we were in the House together," says Gilchrest, who represented Maryland's 1st District from 1991 to 2009. "They came in with a really strong thing called 'family values' and now they're all in for Trump."
"[Ohio Sen.] Rob Portman was considered a tower of integrity and intelligence. … [Kansas Sen.] Jerry Moran was religious. He was an evangelical, stridently moral. … And there was another, from Mississippi, I served with, [Sen.] Roger Wicker …."