Today, the Portuguese Secretary of State for European Affairs, Ana Paula Zacarias, representing the Council of the European Union (EU), signed a number of legislative acts approved by the European Parliament.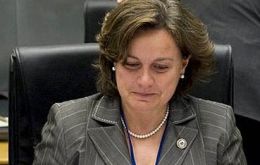 Of note among these legislative acts were amendments to the regulation reinforcing EU protection in international trade agreements, as well as changes to the rules for assigned slots at EU airports and the "use it or lose it" rule in the event of non-compliance with these slots.
Legislative acts aimed at reinforcing the resources available to the European Regional Development Fund (ERDF), the European Social Fund (ESF) and the Fund for European Aid to the Most Deprived (FEAD) were also signed. And an autonomous technical support instrument was created, which will be available to all Member States (successor to the Structural Reform Support Programme [SRSP]).
Source:EU