CAMP DAVID, MD (February 14, 2021)—-today President Joe Biden released a statement on the third anniversary of the hideous mass murder at Marjory Stone Douglas High School in Florida where an ex-student armed with an AR-15 rifle killed 17 people at the school.
"All across our nation, parents, spouses, children, siblings, and friends have known the pain of losing a loved one to gun violence," he said.
Many of the school's teenage survivors and their parents went on to become advocates for gun legislation reform.
The right to bear arms is protected by the Second Amendment to the US constitution and a right that many conservatives and democrats support. To amend the US Constitution, Senate Majority Leader Chuck Schumer will have to gunner up 67 US Senators to deny American citizens their right to bare arms–a right since the American Revolutionary War in 1776.
In his statement, President Biden called for the introduction of background checks for all gun sales, a ban on high-capacity magazines, and for an end to legal immunity for gun manufacturers.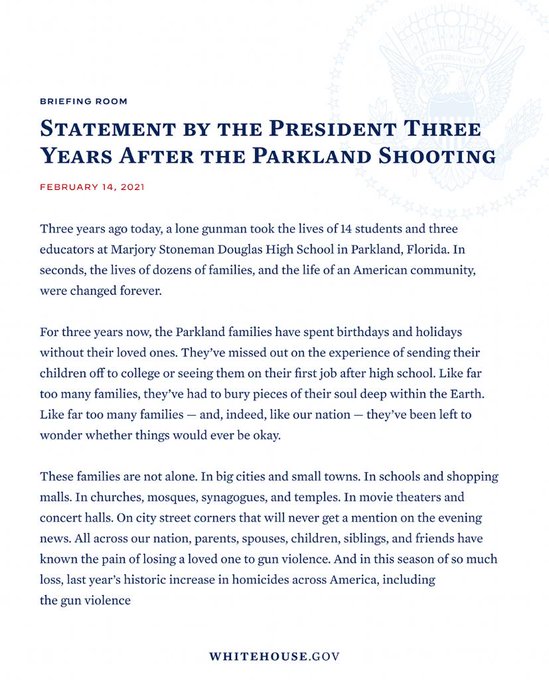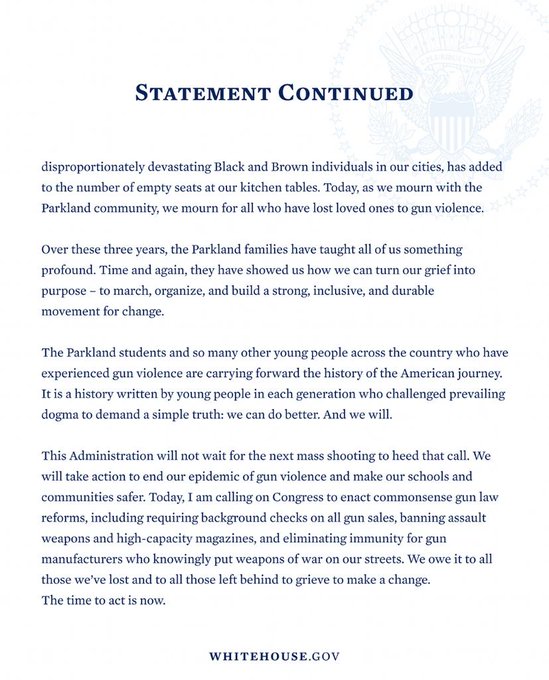 Earlier, Governor Ron DeSantis wrote on this "Remembrance Day "February 14, 2021, marks the third anniversary of one of Florida's most tragic days when 17 innocent lives were lost as a gunman opened fire at Majority Stoneman Douglas High School in Parkland, Florida."
In 2020, Governor DeSantis signed into law the "Alyssa's Law" and allocated eight million dollars for all public and charter schools in the State of Florida to instal panic alert systems.
Desantis concluded in saying " Our state and nation will never forget February 14, 2018. We remember the 17 innocent lives that were lost on that tragic day. Their legacies will endure."
Source: White House