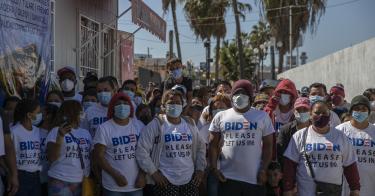 CHICAGO (March 9, 2021) — The U.S. Supreme Court decide to forgo the Trump-era immigration rule denying green cards to immigrants who use public benefits like food stamps.  The decision brings to an end the Trump-era immigration rule Tuesday after the Biden administration dropped legal challenges, including before the Supreme Court. The US Supreme Court's decision–has opened the door for millions of illegal immigrants and has put the United States under siege.
Continuing to defend the rule "is neither in the public interest nor an efficient use of limited government resources," the U.S. Department of Homeland Security said in a statement.
The Supreme Court won't weigh in on the legality of the so-called public charge rule because of an agreement by the Biden administration and the parties and states challenging it. Separately, the Justice Department also dropped objections to a ruling before the 7th U.S. Circuit Court of Appeals, upholding a federal judge's November order striking down the rule nationwide.
At the Southern border thousands of illegal immigrants have crossed over  the borders carrying COVID-19 and untested.  More than 100,000 immigrants have entered shelters at the border–including children of immigrants.
"Biden, please let us in," reads the T-shirts of a group of migrants who made their way to the "El Chaparral" international border crossing to ask the U.S. government for asylum.
When the Trump administration ended, the U.S. was deporting more people than were illegally coming into the country. In less than a month under Biden, the number of people illegally coming into the country is more than 6,000 per day—that's six times the crisis level as set by the Obama team.
This is fueling a public health crisis. One source in the Department of Homeland Security estimates 15%-25% of people who illegally cross the border are COVID-19-positive. According to a recent press report, asylum-seekers, which the president has also let in in record numbers, are testing positive for COVID-19 after being released by the Border Patrol.
Source: AP News wrote original article.