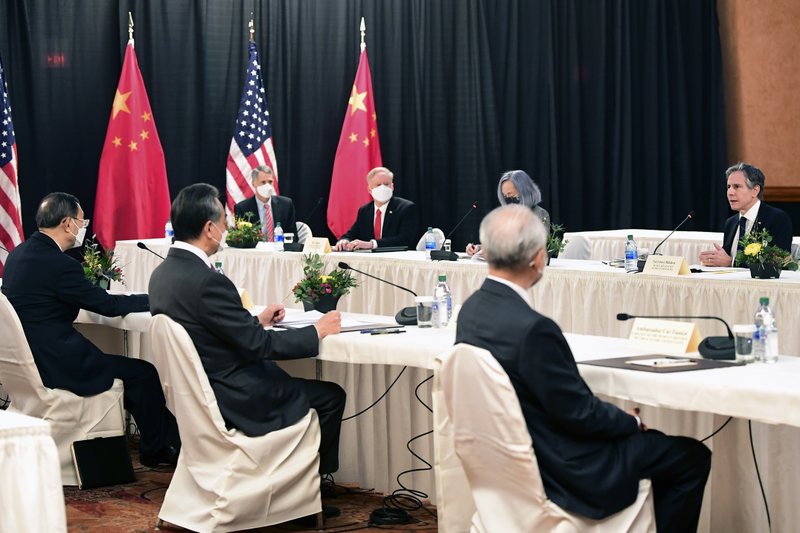 ALASKA (March 19, 2021)-The first meeting between United States (US) and Chinese officials under the new Biden administration got off to a rocky start on Thursday, with senior American diplomats accusing China of threatening world stability and Chinese officials alleging America is a human rights hypocrite due to its mistreatment of Black citizens.  US Secretary of State Tony Blinken,  said the US, under President Joe Biden's leadership, the US would push back China's growing authoritarianism and assertiveness abroad.
He said: "Each of these actions threatens the rules-based order that maintains global stability. That is why these are not just internal issues and why we feel compelled to raise these issues here today." hui. "
Jake Sullivan, the US national security adviser, said China was pursuing an "assault on core values."
He added: "We are not looking for conflict but we are welcoming fierce competition."
In a 15-minute speech, Yang Jiechi, the Chinese Communist Party's top diplomat, accused US officials of "condescension" and said America "was urging certain countries to attack China."
He said, "We hope the United States will do better on human rights. In the United States, human rights [problems] are deep-rooted, they haven't just appeared in the last four years, like Black Lives Matter.
"Many people in the United States have little faith in the democracy of the United States."
He said the United States was responsible for an "unprecedented period of hardship" between the two countries and that "there is no way to strangle China."
He added, "China is firmly opposed to US interference in China's internal affairs. We have expressed our strong opposition to such interference, and we will take firm action in response."
"We believe that it is important for the United States to change its own image and to stop advancing its own democracy in the rest of the world," he said. "Many people within the United States actually have little confidence in the democracy of the United States."
"China will not accept unwarranted accusations from the U.S. side," he said, adding that recent developments had plunged relations "into a period of unprecedented difficulty" that "has damaged the interests of our two peoples."
'There is no way to strangle China," he said.
"Is this a decision made by the United States to try to gain some advantage in dealing with China?" State Councilor Wang Yi asked. "Certainly this is miscalculated and only reflects the vulnerability and weakness inside the United States and it will not shake China's position or resolve on those issues."
Secretary  Blinken replied: "I also hear deep concern about some of the measures taken by your government."
"I'm hearing deep satisfaction that the United States is back, that we're reengaged," Blinken retorted. "I'm also hearing deep concern about some of the actions your government is taking."
"America's approach will be undergirded by confidence in our dealing with Beijing — which we are doing from a position of strength — even as we have the humility to know that we are a country eternally striving to become a more perfect union." 
Blinken warns that China's actions could result in a "far more violent" world, while Beijing's top diplomat accuses the U.S. of slaughtering Black Americans.