FLORIDA (March 21, 2021)—-today former President Donald J. Trump wrote a letter to President Joe Biden about the state of the southern border.  Trump continues his transparency and thoughts in his letter to Biden–while the current administration places a "Gag Order" U.S. Immigration and Customs Enforcement ( ICE) and the U.S. Customs and Border Protection (CBP).
"We proudly handed the Biden Administration the most secure border in history.  All they had to do was keep this smooth-running system on autopilot, said President Trump.
Instead, the span of a just few weeks, the Biden Administration has turned a national triumph into a national disaster.  They are in way over their heads and taking on water fast, added President Trump.
President Trump criticized the "the pathetic, clueless performance of Secretary Alejandro Mayorkas on the Sunday Shows today.  Trump added that Secretary Alejandro Mayorkas' was a national disgrace and that his self-satisfied presentation–in the middle of the massive crisis he helped engineer—is yet more proof he is incapable of leading DHS.  
President Trump also weighed in or Mayorkas' "Gag Order" on our Nation's gorder agents and ICE Officers.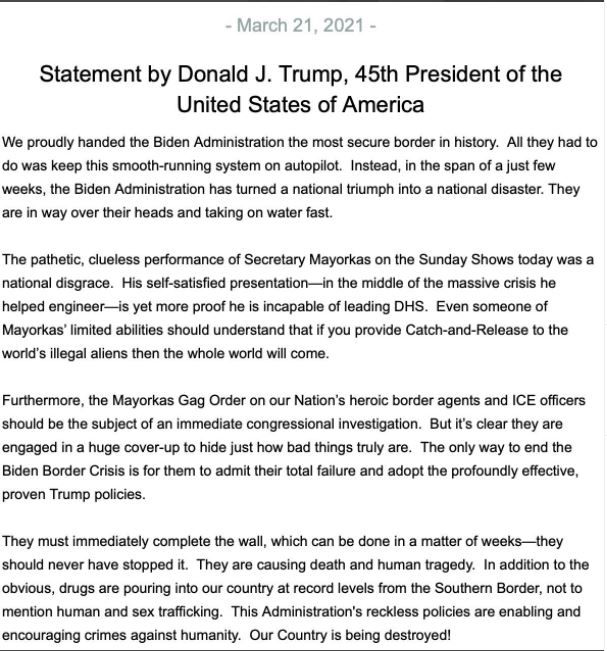 Since President-elect Joe Biden inauguration ICE which " is responsible for immigration enforcement and deportations inside the nation's borders, is at a crossroads, its reputation in tatters and the scope of its mission in question. The agency has lost the faith of many Americans. According to a Pew Research Center poll earlier this year, ICE had the lowest favorability rating of the 10 federal agencies it asked about."
Biden halted all  deportations for 100 days and has promised a new approach to immigration enforcement. Last week, Biden's Secretary Mayorkas said  "We must stop vilifying these communities."
Mayorkas added "We must stop bringing  to an immediate end the inhumane and unjust treatment of immigrants."  
Trump says Mayorkas plan is "causing death and human tragedy. In addition to the obvious, drugs are pouring into our country at record levels from the Southern Borders, not to mention sex and human trafficking.  
"This administration's reckless policing are enabling and encouraging crimes against humanity," Trump added.
Senate Minority Leader Mitch McConnell said "The Administration can't admit they've caused a crisis; they have yet to address the crisis; and House Democrats are backing policies that would only exacerbate the wrong incentive."
The Democrats said that the Biden's administration has the Southern Border under control. But more than 11,000 "family units" — nearly 60 percent of the more than 19,000 that were taken into custody at the border — were allowed to stay in the U.S. while they await their court proceedings, according to CBP statistics. That's up from 38 percent that were allowed to stay, temporarily, in January.
According to the CBP —more than 100,000 migrants have been  apprehended or turned themselves over to officials at the border—those numbers are on track to be even higher in March and the coming months. Mayorkas warned last week that the U.S. is "on pace to encounter more individuals on the southwest border than we have in the last 20 years."
Source:President Donald J. Trump's letter