ATLANTA, GA (April 2, 2021)—today Commissioner of Baseball Robert D. Manfred, Jr. issued a state regarding the 2021 All-Star Game "Over the last week, we have engaged in thoughtful conversations with Clubs, former and current players, the Players Association, and The Players Alliance, among others, to listen to their views."
"I have decided that the best way to demonstrate our values as a sport is by relocating this year's All0Star Game and MLB Draft."
"Major League Baseball fundamentally supports voting rights for all Americans and opposes restrictions to the ballot box." In 2020, MLB became the first professional sports league to join the non-partisan Civic Alliance to help build a future in which everyone participates in shaping the United States.  But the MLB did not quote the Georgia's Election Law directly.
The MLB did not provide any data to support its decision to remove the All-Star Game.
The All-Star Game following a turbent year lost 18 percent of their views in 2020.  The 2019 MLB All-Star Game averaged a 5.0 rating and 8.14 million viewers on FOX, down 4% in ratings and 6% in viewership in 2019  (5.2, 8.69M) and down 9% and 12% respectively from 2017 (5.5, 9.28M).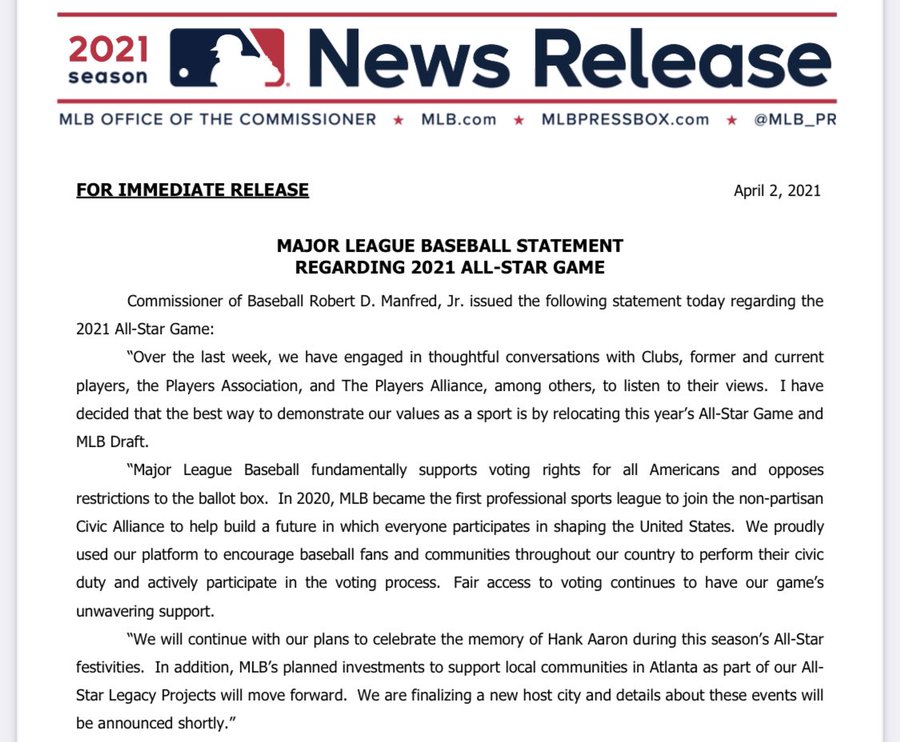 There's no doubt the All-Star Game ratings will be lower in 2021 compared to the standards set a generation or two ago. And if the first nine years of the 2010s are any indication, the ratings will likely be lower than they were in 2020 year, when the All-Star Game drew one of its lowest ratings ever.
Source: Bee News Daily